Not every anime is going to pierce the heavens. "Meh" stories, endless filler, and mountains of fan-service fill the industry. That's why it's important to have a vetting system in place early on. Welcome to my guide, where I'll dig into how you can use anime openings to predict whether or not an anime is trash.
Trash Opening = Crap Anime
Like the hook to any story, the opening song draws in (or away) and provides a taste of the overall flavor of the show (buzzword = tone). And what better way to get through to your senses than by moving visuals and catchy music?
Experienced studios know this, so that's why they'll hire the top J-pop stars and stuff the most stunning animation into just a 90-second sequence. I've sat through many a slow starting series just because the opening was jaw-dropping. If the studio is willing to pull out all the stops and successfully portray the tone and main conflict of the show in just the first impression of the series, it's a good indication they'll be attentive to its overall quality. Here's a list of my top 10 shining examples of the best anime openings (Japanese only) that didn't disappoint fans.
As you watch the openings below, look for these elements of a successful production:
Connection to main characters
Set-up for the story
Hints at themes in lyrics and visuals
Well-animated with unique, compelling symbols
Music that sets the appropriate tone
Viewer appreciation grows after each episode
BEST Anime Openings
---
10. Inu X Boku S.S. — "Nirvana" by Mucc
Ah, Nirvana. My inspiration for this list. This opening was ONE the reason that kept me watching Inu X Boku S.S. You could say B.X.I S.S. and I started off on the wrong foot. For only a 12 episode series, it had an incredibly slow start and a "romance" that hovered somewhere between Puni Puni Poemi (Haha, look maids! Loli girls! Bewbs! -_-" ) and Twilight… basically, I had to do a mental cleanse after each episode. I was one undie shot away from throwing pants at my TV!  Thank goodness I saw a glimmer of hope I needed in the opening.
If you haven't watched Boku x Inu S.S., you'll likely enjoy the opening for the powerful imagery and beautiful characters. The gentle vocals and driving beat bring you into a world laden with symbolism. It's a shocking, stark contrast to a good portion of the series, full of that zany humor I mentioned before. The lyrics hint at the forlorn story we're actually being set up for (very sneaky!), and a detailed use of shifting colors and texture brings us to the underlying theme of the series—two hearts on a journey through worlds of pain in the hope of connecting. After completing the show, the little easter eggs planted in the opening make it an even more satisfying watch and add to the potency of Boku X  Inu S.S.
---
9. Attack on Titan — "Feuerroter Pfeil und Bogen" by REVO
Germans, Fire, and Titans! Oh my!  I know, you're shocked this made the list. *sarcasm*
Alright, alright, sit down, hipsters.  Love it or hate it, mainstream anime has brought us some of the most epic and intense anime openings. AoT's opening title, which I won't attempt to pronounce, translates in English to English  "Crimson Bow & Arrow." This opening nails the gritty, action-packed tone of the series in both music and animation. This song is seriously hardcore, and the choice of German, which has a reputation as an "angry" language, was absolutely perfect with the edgy Japanese rock. When you combine REVO's headbanging tune with exceptionally crisp visuals splattered with blood, you've got the makings for a great opening. The other elements are so strong that the lyrics go underappreciated—they too paint a gruesome picture of the primary conflict in the show:
"The humiliation of being caged is what triggers us to fight back
We hunters slaughter prey beyond the castle walls,
consumed with surging bloodlust,
as our crimson bows and arrows pierce scarlet holes into the twilight"
Poetic, isn't it? Best of all, this opening sets the mood for an equally compelling series.
---
8. Full Metal Alchemist: Brotherhood—"Again" by Yui
There are many solid openings in both variations of Full Metal Alchemist, but none leaves a better impression than "Again" by Yui. Like Sailor Moon Crystal, Fullmetal Alchemist: Brotherhood had the difficult task of competing with its predecessor when it released. Fortunately, Brotherhood refined the already appealing ingredients of the original show. Talk about some powerful alchemy! I love the opening because it gives us a picture of what this anime as a whole does right. The familiar characters and fragments of visuals from the old FMA anime's symbolism are all
I love this opening because it gives us a picture of what this anime as a whole does right. The familiar characters and fragments of visuals from the old FMA anime's symbolism are all there but are presented in a way that deepens their meaning. Take a look at Edward Elric's pained expression when the opening begins and you already know this is a more mature starting place for the boy who experienced horrific family trauma at a young age. Add Yui's mesmerizing voice and you can't help but be pulled into the story of Brotherhood. And THAT CHORUS. If you're not sold on the anime by the build up of this opening, you must have a heart of stone.
---
7. Revolutionary Girl Utena—"Rinbu Revolution" by Okui Masami

If you've heard anything at all about Revolutionary Girl Utena, you know it's the onion of symbolism in anime.  We're talking layers and layers, you guys. Not even Tumblr can unveil all its mysteries, and they've picked Evangelion over pretty well.

"Rinbu Revolution" is a brilliant distillation of the massive quantity of information in Utena into a simple fairy tale. It's got your standard Western fairytale symbols, including roses, white steeds, sword fighting, a castle, and a princess.
And then there's a weird school with a girl dressed in a boy's uniform? Hmm. Good leading question, show—why is this pink-haired maiden wielding a sword at her classmates? Further inspection of the lyrics reveals a journey to "revolution" Utena must take, even if she has to go all alone. Without spoiling anything, when you combine these classic fairytale roles with a revolution that turns the world literally upside down (check out that castle in the opening), you're in for a challenging "coming of age" story. I recommend revisiting this opening after completion of the series for the full, mind-blowing impact.
---
6. Angel Beats!— "My Soul, Your Beats" by Lia
Every once in a blue moon, you'll get an anime soundtrack that's got stellar composition. Honestly, Angel Beats was a no-brainer for this list.
Why is the opening so awesome? Because it is brave (at least for its time). Get this: Angel Beats! is about high schoolers, so you can imagine the target demographic of young adults. Imagine the surprise of the J-pop & rock fans when they heard the opening piano chords of "My Soul, Your Beats." Wait a minute, this isn't Nodame Cantabile or Your Lie in April! This is…
…actually, I'm still not sure what genre this show falls into. But it's a sound that leaves you breathless.
Not only is the piano inspiring, but there are visuals which set the anime apart, such as the inclusion of a heartbeat pulse. At first, it's easy to miss because there are a lot of pretty things happening on the screen. But the show centers around a life & death story, so symbolically pulse carries tremendous weight. These are the hints I look for when searching for a show that packs a punch. The Angel Beats opening was full of surprises, as was the series. This opening is a shining example of how the first 90 seconds of a series reflect the overall quality of the show.
---
 5. One Punch Man—"The Hero!! Set Fire to the Furious Fist" by JAM Project
"ONE PUUUUUUUUUUUUUUUUUNCH! 3.2.1. LET'S GO!"
One Punch Man, the ingenious superhero comedy which crushed the charts in 2015, has an equally potent opening. How can you not get pumped up by this pick? The hype has not been this real since "Rock the Dragon" of DBZ. Heavy rock drives up the impact so the screamed tagline is unforgettable. The animation is full of thick, jagged lines, adding to the intense tone. We can't take our eyes off of Saitama, the most unlikely OP hero, doing the impossible.
Mountains crumble and monsters flee before those shiny red rubber gloves. The shiny head of Saitama's is so exaggerated in this fantastic art style that the ironic final cut of him walking down the street, carrying a plastic grocery bag is quite hilarious. The opening captures the full spectrum of pleasure viewers will experience from the series.
---
4. Clannad Afterstory— "Toki Wo Kizamu Uta" by Lia

Any opening that can tug on your heartstrings like this one deserves a spot in the top five. Clannad Afterstory, the sequel to Clannad, follows former high school students as they graduate and struggle to find their place in society. This opening is also sung by the Lia, the same artist as Angel Beats!, which is no surprise given the incredible piano and vocals.
Because the story follows a love story and the community of characters it impacts, the opening gives each their time to shine. The result is a bittersweet reminder of each of their dreams and failures. It's impossible not to get attached. Since Clannad & Clannad Afterstory focuses heavily on these ties, the opening lyrics  of "Toki Wo Kizamu Uta" (A Song that Ticks Away Time) are heart-wrenching. With every watch, you'll need more tissues.
---
3. Blood + "Season's Call" by HYDE
Blood + has a track list that will rock you. I had a hard time picking one opening song, but in terms of the show's overall tone, HYDE's voice carries Season's Call to the top.
The impressive visuals, combined with the textures of the animation paint a clear picture of the main character's struggle. In the opening, Saya, a young high school girl, floats under water, metaphorically drowning in memories of her normal life…before the violent events of the anime sent her barreling down a dark road. The ethereal animation also captures the dark side of the series with its oversaturated palette and frames and gritty textures.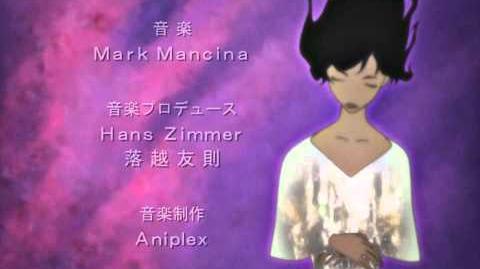 .
For its time, this use of texture and brightness was a fresh technique. We get to see a similar style carry over to the third opening, "Colors of the Heart" by UVERWorld, but this one is given a colored pencil filter. Best of all, fans of the show will tell you the production studio paid just as much attention to detail to the series as a whole.
If you enjoy Blood +'s opening, do yourself a favor and check out the full series. By the way, Blood C- also has an incredible opening with an even darker take on Saya's story.
---
2. Sailor Moon— "Moonlight Densetsu" by DALI
It took everything in my power to resist putting this as #1. Instead, I decided not shove my fandom down your throat. Even without my nostalgic bias, the power of the moon is strong! There's something to be said about an opening that's so memorable fans will still join their voices after its 25th anniversary.
As the definitive first globally embraced magical girl anime,  Sailor Moon (and its openings) have been translated and censored, for better or worse, into various languages. Moonlight Densetsu never lost its charm, no matter how many times it was rehashed. The blend of powerful imagery and lyrics convey themes of a girl's true strength, good versus evil, coming of age, and true love.
When I picked Sailor Moon back up as a young adult, I was shocked by the Japanese lyrics:
"I'm sorry I'm not straightforward; I can say it in my dreams.
My thoughts are about to short-circuit.
I want to see you right now.

Moonlight keeps me from crying, Midnight keeps me from calling.
My heart is a kaleidoscope.
What should I do?"
I grew up a Sailor Moon fan, but watching this Japanese opening for the first time and reading the lyrics gave me a deeper connection to Usagi. From the first transformation, its very easy for the target audience of the show, young girls, to latch onto Usagi or one of the other Senshi as strong role models. As an adult, I still relate to her emotions! When you're already invested in the characters from the opening, you have a show on your hands you can watch over and over again.
Honorable Mentions:
Here are a few other anime with openings that didn't disappoint:
Death Parade
JoJo's Bizarre Adventure
Parasyte
Samurai Champloo
Evangelion
Excel Saga
1. Tokyo Ghoul — "Unravel" by TK
I went back and forth on this for a long while. In the end, I am standing by my original pick. Tokyo Ghoul's "Unravel" simply has it all: exquisite animation, oodles of tone, mysterious visuals that draw you in, simple yet profound lyrics, conflict & theme, and powerful sound. It comes together in a captivating symphony I couldn't tear myself away from.
I never skipped the opening. I Googled the meaning of the lyrics over and over. I memorized the Japanese chorus. I sang it in the shower. It made me want to find out not only what happened to Kaneki in the series, but to fully understand his character. Every time I hear the opening "tell me, tell me", a flood of emotions comes rushing back, and I long to relive the story again. That's the ultimate win for an introduction to the series!
---
As you check out more series, I hope you'll get a fresh perspective on the openings after reading this guide! Is there an epic anime opening that I left out? Let me know why it's awesome. Thanks for reading!